Attendance
We know that good attendance is vital in order for children to achieve their full potential. We work hard to support parents and carers in helping their children have the best possible attendance at school - it is only through this partnership that we can ensure children develop good learning habits which can serve them throughout their lives.
Congratulations to all our parents/carers and pupils who have worked together with us to improve attendance over the past 5 years.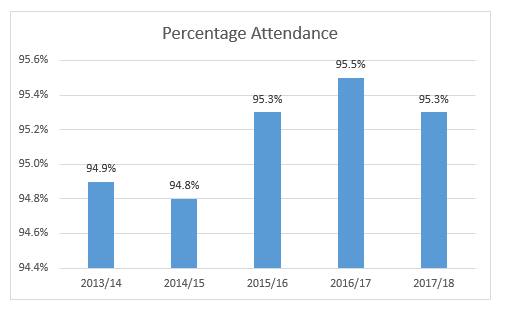 Working Together
Pupils
Attend school every day and on time.
Achieve an attendance score of at least 96%.
Sign in at reception if you arrive late to school or after an appointment to avoid an unauthorised absence mark.
Sign out at reception if leaving school for any reason (e.g. going home due to sickness or for an appointment.)
Bring a note or appointment card if you have an appointment.
Parents/Carers
Encourage you son/daughter to attend school every day and on time.
Report your son/daughter's absence before 10.00am by contacting school.
Avoid holidays during term time.
Try to arrange appointments as early or as late as possible in order to miss fewer lessons rather than a full day. Similarly, if your son/daughter is ill, but feeling better by lunch - bring them in.
Maltby Manor Academy
If your son/daughter is absent and you have not let us know, we will contact you by phone or text. If we have not heard from you by 10am our Attendance Officer may visit you at home to confirm the reason for absence.
If your son/daughter is having problems attending school, please do not hesitate to contact us and we will support you in anyway we can.